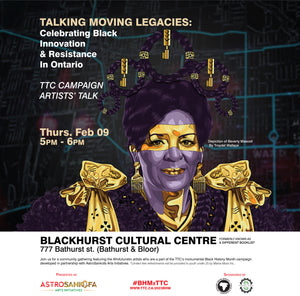 Talking Moving Legacies - Thursday 5-6pm Feb 9 2023
Stolen From Africa is proud to partner with 
@takethettc
 for a few community initiatives this month starting with this Thursdays event! Big up to 
@blackhurstcc
@astrosankofa
 and everyone associated with the "Talking Moving Legacies" campaign. If we don't tell our stories they would say we didn't exist!
Join us for a community gathering this Thursday Feb 9th at Blackhurst ( 777 Bathurst st) 5-6pm featuring the Afrofuturistic artists who are a part of the TTC's monumental Black History Month campaign developed in partnership with AstroSankofa Arts Initiatives.
*Limited free refreshments will be provided to youth under 25 by Mama Moss Inc.
Flyer features a portrait of Beverly Mascoll by Troydel Wallace (
@troy_dell
)
For more info on the campaign visit www.ttc.ca/2023BHM
#BHMxTTC
Let's continue to connect inspire and activate ⚡️⚡️⚡️
TALKING MOVING LEGACIES: Celebrating Black Innovation & Resistance In Ontario is a Toronto Transit Commission (TTC) campaign project presented in partnership with curation and contribution from AstroSankofa Arts Initiatives.
The campaign project features works from 8 of AstroSankofa Arts Initiatives artists who produced spectacular portraits of twelve influential Black contributors to Ontario politics, education,
infrastructure and industry.
Danill Deluxo 
@danilodeluxo
Yung Yemi 
@yung.yemi
Meighan Morson 
@emelle_arts
Kanisha Dabreo 
@artisticperceptionca
Komi Olaf 
@komiolaf
Troydel Wallaxce 
@troy_dell
Quentin VerCetty 
@keepgrowingq
Autumn Beals
With these initiatives, we aim to create a sense of belonging for our Black and racialized customers and employees.
We hope you enjoy the artwork displayed across our system throughout the month.
Look out for the following vehicle routes
501 Queen
505 Dundas
32 Eglinton West
35 Jane
36 Finch West
54 Lawrence West
102 Markham Road
Also in numerous subway stations and bus stops
---